Details
1 Used Sony SRW-5800/1 HDCAM-SR Studio Recorder With Optional Boards HKSR- 5802, HK-SR5803SQ, HKSR5001/20

The SRW-5800 HDCAM-SR Studio Recorder is equipped with the same key features as SRW-5500 and SRW-5000 recorders in the series. This deck records 1920 x 1080 resolution 10bit HD signals using MPEG-4 Studio Profile with visually loss-less compression. Video data rate is 440Mbps and 880Mbps is also possible with HKSR-5803HQ option. 12 channels of 24-bit discrete uncompressed audio can be recorded. Multiple frame rates are supported i.e. 1080 23.98/24/25/29.97/30PsF, 50/59.94/60i and 720 50/59.94P. 1080 50P and 59.94P are also supported with HKSR-5803HQ by using double speed recording mode. RGB4:4:4 signals can be recorded and played back with option cards. The HKSR-5803SQ supports 4:4:4 SQ mode only and the HKSR-5803HQ supports both 4:4:4 SQ and HQ mode. By using HKSR-5802 option, it can playback HDCAM and Digital Betacam tapes. Up-conversion output is possible when playback Digital Betacam tapes. HKSR-5001 format converter option for SRW-5000 and SRW-5500 can be used for SRW-5800, too. This versatile format converter allows 2-3 pull down and 1080i or 1080PsF to 720P conversion or vice versa. Color space conversion between 4:4:4 and 4:2:2 is possible as well.
HKSR-5803HQ option enables X2 transfer of Video, Audio and Timecode to specified server in 1080 50i (25PsF), 60i (30PsF), 24PsF and 720 50/59.94P over HD-SDI dual link by using 880Mbps mode.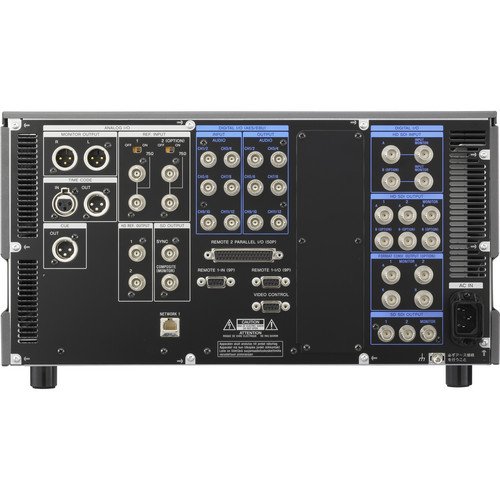 Factory Optional Boards Included
Sony HKSR5802 HDCAM and Digital Betacam Processor Board.
The Digital Betacam and HDCAM Processor Option Board HKSR-5802 can be used with SRW-5800/5100 HDCAM-SR Studio VTRs, for the playback of Digital Betacam tapes for output in both HD and SD.
Used with SRW-5800/5100 HDCAM-SR VTRs only
Provides the capability to playback Digital Betacam tapes for output in both

HD

and

SD
HKSR5803SQ RGB SQ Processor Board
The RGB SQ Processor Option Board HKSR-5803SQ allows SRW-5800 HDCAM-SR VTR to record and playback 1080/4:4:4 SQ content.
Used with SRW-5800 HDCAM-SR VTR system
Provides SRW-5800 with the capability to record and playback RGB (4:4:4) SQ signals
HKSR5001/20 Format Converter Board
The Format Converter Option Board HKSR-5001 can be used with SRW-5000/5500/5800/5100 HDCAM-SR Studio VTR for variety of format conversions such as up conversion and down conversion from HD-SDI to SDI, and from 4:4:4 to 4:2:2. It has the 2-3 pull-down conversion capability as well.
Provides a wide variety of format conversions such as up conversion and down conversion
conversion from HD-SDI (both 1080 & 720) to SDI, and from 4:4:4 to 4:2:2
2-3 pull-down capability
1080/720P cross-conversion capability
Additional Information
| | |
| --- | --- |
| Dimension | 16.8 x 8.6 x 21.5" (42.7 x 21.8 x 54.4cm) |