Details
JVC's industry's leading Vérité Series professional monitors are widely used throughout broadcast network facilities because of their unsurpassed image reproduction and rock solid reliability. The new DT-V24G1Z goes beyond its predecessors in features and performance, setting new standards in terms of overall picture quality and accuracy. This new "Vérité G-Series" monitor has a full 1080p image display that offers much wider color gamut and wider viewing angles than previous models. The waveform monitor is now much larger and a vectorscope has been added. A 3G/Dual-link HD-SDI input enables monitoring of 1080/60p signals. Digital closed captioning is now standard. Superior scaling and de-interlacing, 10-bit 4:4:4 1080p processing combined with traditional rotary image controls, area markers, blue check and timecode display make the DT-V24G1Z the best choice monitor for television studios, remote production vans, production and post facilities, and other demanding professional applications
The Vérité G-Series DT-V24G1Z is JVC's top-of-the-line broadcast monitor. Its new IPS panel combined with exclusive JVC image processing delivers an exceptionally wide color gamut with pin-point precision. Like its predecessors, the DT-V24G1Z offers native 1920 x 1080 resolution on an oversized 1920 x 1200 display panel leaving ample room for on screen status and metering indications outside of the active picture area. The monitor now offers digital closed captioning, a large waveform monitor, vectorscope and low latency processing.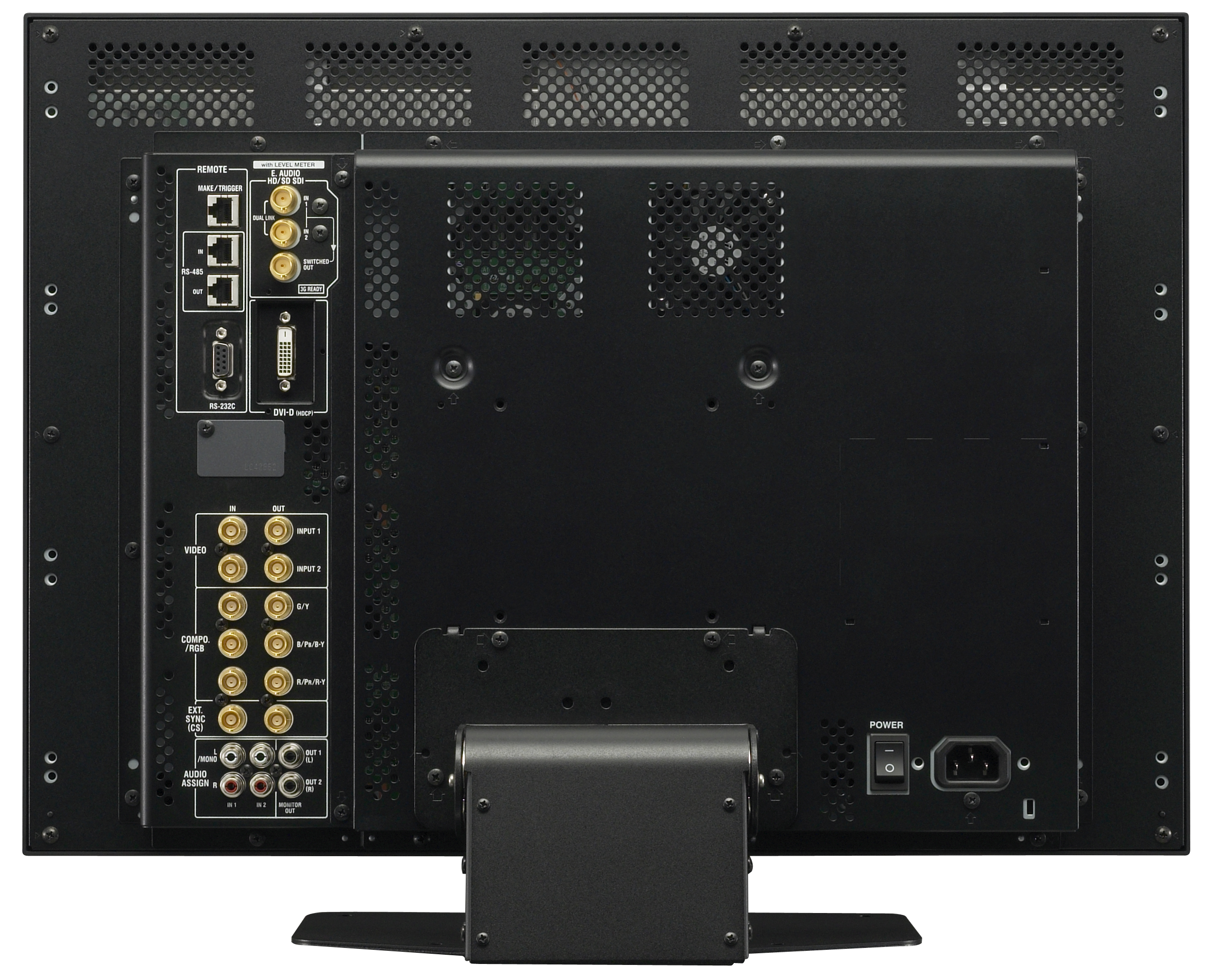 High-quality pictures
Native HD resolution

The DT-V24G1Z 24-inch video monitor features 1920 x 1080 resolution, making it a true native HD monitor. As the flagship of JVC's line of HD production monitors, the DT-V24G1Z can reproduce native 1080i / 1080p/psf and 720p video images in their original form with no loss of quality due to scaling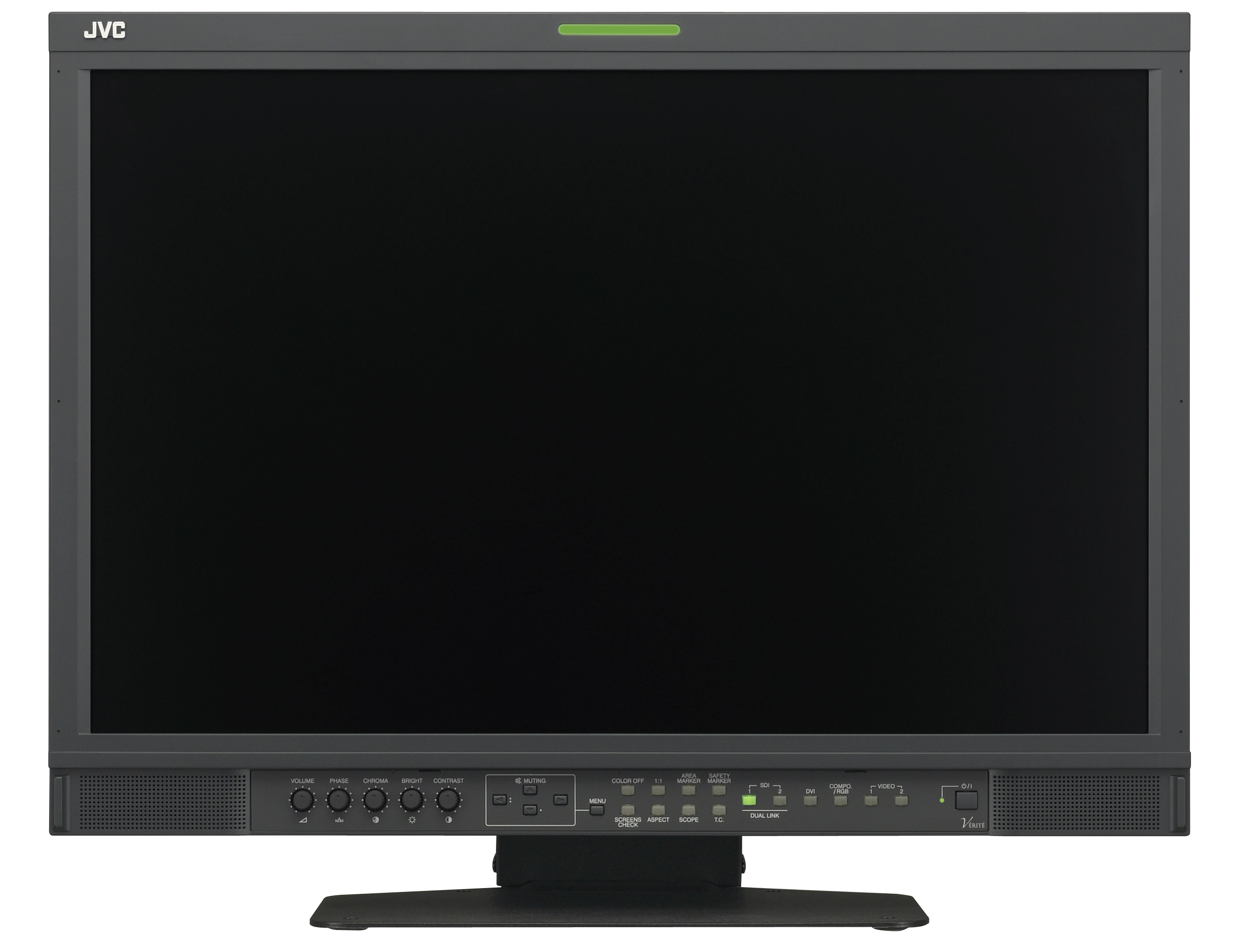 Comprehensive video signal inputs/outputs

The DT-V24G1Z includes 3G/Dual Link HD/SD SDI inputs and is capable of displaying up to 1920 x 1080 60p uncompressed digital video sources at up to 3 gigibits per second. Looping component Y-Pb-Pr input/outputs are provided along with two composite video input/outputs. High definition signals can also be displayed through a DVI input with HDCP. HDMI signals can also be used with an inexpensive cable converter (not provided.) The monitor accepts external sync signals. To assure maximum quality at all time and to prevent corrosion and signal loss, the all BNC video and sync connectors are gold-plated.


High-performance IPS (In plane switching) panel with non-gloss surface

Wide viewing angles up to 178°/178° are maintained thanks to a new matte surface LCD panel. There is very little chromatic variation with different viewing positions.


New Low latency circuitry

Thanks to JVC's upgraded circuitry, the delay between input signal and monitor image is minimized—less than 1 frame—enabling precise, monitoring without lip-sync problems. Additionally, response to changes in input signals is now instantaneous.


Color Temperature

Color temperature can be set as required with a 3-temperature memory that includes a 9300K mode, 6500K mode, and user-specified mode.


IP mode (De-Interlacing)

JVC original de-interlacing circuits are employed to ensure the highest quality display of 1080i and 480i signals. The IP conversion mode can be selected from NORMAL MODE (frame complement and vertical filter), FIELD (field complement) and CINEMA (for 24p).


Image processor
Refined and enhanced over many years, JVC's advanced image estimation technology has now been re-designed for digital applications. Able to reproduce image quality faithful to input signals, this new 10-bit 4:4:4 real time processor delivers the true professional performance. Wit
h this processor, the high-quality HD signals used in production can be reproduced with absolute fidelity on the LCD display, resulting in crisp, clear, high-resolutio
n images.
With motion picture content, processing of original pictures is minimized while IP conversion is optimized to maintain sharp and clear images. This sophisticated technology applies no more processing to input signals than is necessary to ensure natural image reproduction close to CRT displays.


Wide color gamut

The matrix parameters for HDTV and SDTV inputs are set for color reproduction that pricely conforms to the ITU standards, ensuring ITU-standard color reproduction with default image settings. Furthermore, the LCD panel has a chromatic range equivalent to EBU 100%, ensuring that color reproduction is faithful to the original signal.


Gamma calibration

The DT-V24G1Z's gamma setting is calibrated at the factory to assure correct display of video images. Precise adjustment of various display parameters at the factory achieves excellent gray scale characteristics. JVC offers various pre-set gamma modes (2.2, 2.35, 2.45, 2.6).

User-Friendly Functions


Large on-screen video waveform monitor

A precise waveform display is available that can monitor analog or digital video levels. It detects video, component (except RGB), SDI, DVI (except PC) brightness signals and displays them with resolution of 360 x 254 for SD signals or resolution of 480 x 254 for HD signals. It also performs checks at the color signal level of each color per screen for R/G/B, Y/PB/PR, Y/CB/CR. An over-level function enables peak brightness to be checked at a glance. The position of the waveform display can be selected, or enlarged in the center of the screen.


Vectorscope

A precise high-quality vectorscope allows simple checking of hue and saturation of digital video signals. Hue and saturation of color signal are detected and displayed as a vector with resolution of 254 x 254. Compatible with video, component, SDI (SD/HD), DVI (except PC signals) input signals, and like the waveform monitor, its position can be selected or enlarged.


Digital and Analog Closed Captioning

EIA-608/708 DTV Closed Captioning is supported via HD-SDI inputs. Analog closed captions can also be monitored when signals are input via composite video connection.


Versatile Audio Monitoring

Any two of 12 HD/SD SDI embedded audio channels can be monitored through two internally mounted speakers. Two separate pairs of analog AUDIO-IN connectors and a pair of AUDIO-OUT connectors are also provided. The AUDIO-OUT connectors can selectively output either the analog audio signals, or any pair of embedded HD/SD SDI digital audio channels. A rotary knob is used to adust volume level.


Advanced Status display and metering

Status information can be displayed in the blank area above or below the active picture area. Up to 10 characters can be used for monitor name (user defined). The monitor name can be assigned with the on-screen menu, or through the RS-232C connector. Time code (SDI-embedded), audio level meter (12 channels) and CRC error check are also available. The channel number is displayed in each level bar. Status of the audio signal can be checked at a glance for Reference Level/Over Level 0 dB, three set levels, and peak hold function.


1:1 scan

This useful function enables pixel-by-pixel display. Input signals are displayed in their original format without scaling. Precise image quality evaluation is available during editing.


SD 4:3 Full Vertical Display

A menu setting allows 4:3 images to use the full 1200 vertical pixel screen area, providing larger standard definition display.

Wide range of functions to support creative work


Various video production functions

Functions that support video production
include various area markers and a 100%-80% adjustable safety marker that shows the area outside the image. Aspect switch allows you to select between 4:3 and 16:9 ratios, while screen check (blue check) allows more accurate image checking by toggling between R, G and B signals. Two tally lamps (red and green) are also provided.


No sync action

The screen mode activated when no signal is input or when the power-saving mode is engaged can be selected from Suspend/Gray Back/Off.


Time code on/off function

HD-SDI / SDI embedded time code display can be switched on and off as required.

System Flexibility

4-way remote control system

The remote control system can be selected from MAKE contact system / TRIGGER PULSE system / RS-485 / RS-23
2C. The RS-232C system can be converted to RS-485 on the monitor for cascade signal output. It is also possible to assign the monitor name (displayed in the status area) through the RS-232C control.

Easy Installation

Compact, all-in-one design
This slim, space-saving, all-in-one design enables easy installation on a shelf or in a rack. For added convenience, a VESA standard mounting (100 mm x 100 mm) is provided. A rugged metal base with 4-hole pattern for additional screws assures secure installation and prevents monitor from being displaced or falling.


Adjustable Stand

The provided metal tabletop stand can be tilted up (6°) or down (6°) for easy viewing and more flexible positioning. You can also install the monitor directly on a platform
— useful when you need to install in a location with a height limit (for example, on a shelf or in a rack).

Rugged, durable design

Metal chassis design

A metal cabinet provides rugged durability for use in a variety of professional applications.


Connector guard construction

With a speaker grill and enforced edge design, protruding volume controls and switches are sheltered to prevent mis-operation and damage. On the back of the monitor, the concave design helps protect the connectors. This attractive, efficient design is both practical and safe.


Others

Built-in stereo speakers
Additional Information
| | |
| --- | --- |
| Dimension | 564 x 408 x 99 mm (22-1/4" x 16-1/8" x 4") |