Details
Meet the StudioLive 16.0.2!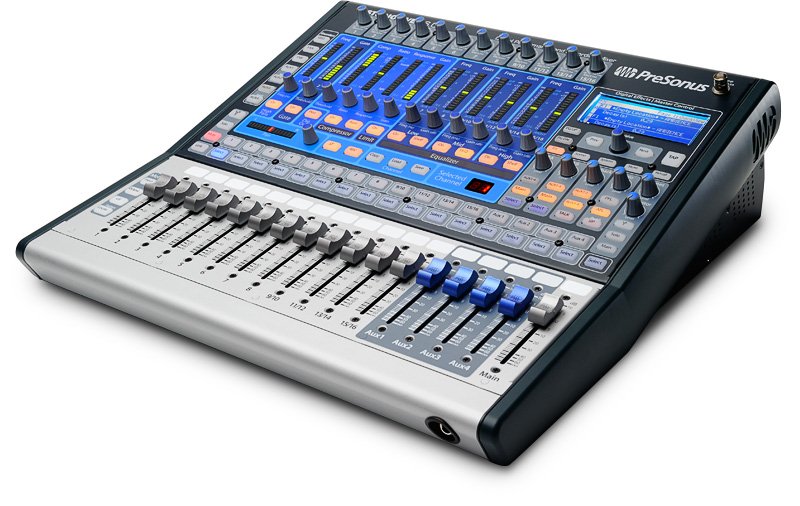 Our StudioLive™ 24.4.2 and 16.4.2 changed the game, offering amazing performance and ease of use for a great price. Now we've packed the same audio quality, performance, seamlessly integrated software (including remote control) into a smaller, even more affordable package.
Small size. Bigger possibilities.
In a "footprint" of less than 2 square feet (0.19 sq. meters), the compact, 16-channel StudioLive 16.0.2 offers 8 mono input channels and 4 stereo channels and provides 12 XMAX™ Class A solid-state mic preamps. (It has a total of 13 Class A mic preamps, including the Talkback input.)
At PreSonus, we know that the mic preamplifier is a key component in the sonic quality of a recording. The StudioLive includes custom-designed, high-voltage, discrete, XMAX Class A microphone preamplifiers that are suitable for use with all types of microphones.
The job of a microphone preamplifier in a digital mixer is to boost a microphone-level signal to line level before conversion to the digital domain. A good preamp boosts the level to almost 400 times that of the original signal, making the preamp one of the most important stages in an interface. A cheap, off-the-shelf, op-amp-type mic preamp delivers thin, noisy, harsh results.
But with XMAX preamps, the sonic quality is limited only by what microphone you plug into it.
XMAX preamplifiers are built with three key elements:
High Voltage. The XMAX preamplifier runs on power rails of 30V. Most off-the-shelf, op-amp-based designs run on power rails of 10V to 18V. Higher-voltage power rails deliver more headroom, deeper lows, smoother highs, and a richer overall sound.
Discrete components—not op-amps. We only use genuine transistors, resistors, and capacitors. Op-amps add noise, coloration, and harshness to a signal. Our discrete design delivers ultra-low noise and transparency.
Class A. Class A circuits have no crossover distortion and deliver purer, clearer, and more musical results than the Class AB designs that are found in many preamps.

The net result of the XMAX preamp design is high headroom, low noise, wide dynamic range, extended frequency response, and—most important—musicality and transparency, with smooth highs, solid deep lows, and everything in between.
But don't let its size fool you; the 16.0.2 is jam-packed with features and processing power, employs the same workflow and easy-to-use mixing-surface design as the bigger StudioLive boards, and sounds every bit as good, with the same high-definition, wide-dynamic-range, digital converters.
Superb sound from the interface experts.
Ease of use and powerful features only count if the sound quality is equally impressive. After all, it really comes down to how clean the signal path is and how well the mixing algorithms perform.
That's why you should choose a digital mixer made by PreSonus, a company already famous for its analog mic preamps, pristine digital interfaces, and well-regarded signal processors.
Ultra-high-headroom, 32-bit floating-point processing is used for all digital mixing. All analog inputs and outputs use the highest-quality digital converters available, with +118 dB dynamic range, for spectacular sonic results and unmatched musicality.
Synchronization to your computer is stable and robust, thanks to JetPLL™ synchronization technology. JetPLL™ incorporates noise shaping to virtually remove all audio-band jitter, ensuring near-perfect clock performance and optimal converter performance when networking two or more digital-audio devices.
JetPLL quickly locks to any digital format through a wide range of frequencies and isextremely robust and tolerant of wide variations in clock frequencies.
As a result, you'll experience better stereo separation and clearer, more transparent audio.
More than a mixer: an integrated system.
The StudioLive™ 16.0.2 integrates a 16x16 FireWire interface and comes with Capture™, Studio One Artist™ recording and production software, and Virtual StudioLive bidirectional control software.
Moreover, you can control virtually the entire mixer from an iPad® using PreSonus StudioLive Remote, and you can control the aux (monitor) mixes from an iPhone® or iPod touch® using PreSonus QMix™. Both are free downloads from the Apple App Store.
Because of our powerful, integrated, free software, StudioLive digital mixers can do far more than their competition.
There are five parts to this unique system:
Virtual StudioLive for laptop control and editor/librarian functions
StudioLive Remote for iPad remote control (available free from the Apple App Store)
QMix for iPhone and iPod touch remote control (available free from the Apple App Store)
Capture for two-click multi-track recording and playback
Studio One Artist Digital Audio Workstation for enhancing your recordings (and for direct recording from StudioLive 16.0.2 or any compatible interface)

Virtual StudioLive: The magic of computer control.
Written exclusively for StudioLive mixers, Virtual StudioLive (VSL) provides a complete visual representation of the mixer, allowing you to control the features with a mouse, trackpad, or trackball on a FireWire-equipped Mac® or PC. Add third-party VPN software, and you can even control StudioLive mixers over the Internet—ideal for contractors. To get a competing mixer with computer control even close to this complete, you'd have to pay several times as much.
Even better: wireless control!
You're mixing a live show with an old-skool mixer—make that any mixer other than StudioLive—and you need to check the sound underneath the balcony—or in the balcony, for that matter. Or you're sound-checking and want to hear the stage monitors for yourself. If you can't leave the mixing station, you have to rely on someone else's ears. If you don't have a reliable crew, you don't have a chance.
You can say goodbye to that problem if you use a 16.0.2 and an Apple iPad! With StudioLive Remote for iPad—available free from the Apple App Store—you have complete, real-time, wireless remote control over Virtual StudioLive, which in turn offers real-time control over the StudioLive mixer. As long as you have a wireless connection between your iPad and computer (and are connected via FireWire to the 16.0.2), you are in control of the console.
Yet even better: control of monitor mixes from iPhones and iPod touches!
We've given you a lot of sonic control with the StudioLive, Virtual StudioLive, and StudioLive Remote. It's only fair that we help you give the band control of their sound, too. With PreSonus' free QMix™, each band member can control their own StudioLive aux (monitor) mix from an iPhone® or iPod® touch. QMix lets you adjust a single aux mix per iPhone. Select inputs and levels for your custom monitor mix, and then use the Wheel of Me to get, well… "more me"… quickly during performances.
You can even set permissions to ensure that the bass player, always the practical joker, can't mess with the hot-tempered lead singer's monitor mix. Otherwise, that bass player is going to get in trouble someday. We're just sayin'….
Recording made easy with Capture™.
Check out our competition, and you'll discover that their "recording" capabilities amount to stereo-only or just four channels — or require expensive add-ons.
With the StudioLive 16.0.2, if you have a laptop, you have a multitrack digital recorder instantly ready to capture your gig, church service, or presentation.
Just two mouse clicks engages Capture recording software. When you install it on your laptop, it automatically "maps" to the outputs of the 16.0.2 to automatically record all 16 input channels.
Recording with Capture
Because StudioLive 16.0.2 can so easily return FireWire playback channels from your computer, you can pull off nifty tricks. You can "virtually" soundcheck your band and fine-tune the P.A. and monitors in a new venue, even when the band's not there yet. (The drummer got stuck in traffic again.) Or create backing tracks at your studio and seamlessly blend them with live performances.
Here's a particularly cool feature: Capture lets you insert markers during a live recording — between songs or parts of a worship service or presentation—with a single mouse-click. Later, when you are ready to edit the performance, you can export each region you have marked as a separate file, using a single command. This saves hours and hours of work!
And Capture can run simultaneously with Virtual StudioLive and SL Remote, so you can personally soundcheck every part of the stage and house.
Studio One® Artist — A serious digital audio workstation.
Once you're recorded studio tracks or a live multi-track performance, it's time to finish it with effects and a good mix (not to mention editing out that huge burst of feedback during the third song).
Studio One is a groundbreaking music-creation and -production application for Mac OS X and Windows XP/Vista/7 that makes audio recording and MIDI sequencing ridiculously simple right out of the box.
Studio One changes the rules of the game with fresh code, innovative drag-and-drop features, advanced MIDI mapping, auto-configuration with your StudioLive 16.0.2, insanely good audio quality, unlimited tracks and plug-ins per track, and a powerful, inventive Start page. Studio One Artist also comes with a Native Effects™ 32-bit effects library, complete with dynamics processors, reverbs, modulation effects, amp simulators, and more. And with Studio One's free Nimbit® extension, you can immediately start selling your music.
130 quality signal processors at your fingertips.
The 16.0.2's Fat Channel is well stocked with compressors, limiters, gates, phase reverse, high-pass filters, and 3-band semi-parametric EQ. Two stereo, 32-bit floating-point effects processors deliver delay and reverb effects.
A gigantic console in a small package — thanks to the Fat Channel.
The StudioLive 16.0.2 may be compact, but its Fat Channel is loaded with a high-pass filter on every channel and aux (22 total), phase reverse for each channel strip (12), and a gate, compressor, limiter, and 3-band parametric EQ for every channel, aux output, FX bus, and main output (24 of each!).
Engaged by pressing any Select button, the Fat Channel features extensive equalization and dynamics processing for every input channel, every aux output, the FX outputs, and the main outputs. The high-pass filter and EQ algorithms deliver extremely musical results. Also included in the Fat Channel are limiters, plus compressors and a downward expander, providing extensive dynamics control.
To let you get the most from all of this processing power without descending into menu purgatory, we designed the Fat Channel with clearly labeled, physical knobs; an ingenious, multifunction, 16-ladder LED display; an in-your-face Selected Channel display; and even a separate horizontal pan display. It's easy to instantly access any function and get clear, visible feedback.
Not just effects. Effects you'd expect from a $600 standalone processor.
You get two programmable, 32-bit floating point, stereo DSP effects engines, loaded with 50 reverb, delay, and time-based effects presets that you can really use.
Our first compact mixer with MIDI control from a footpedal.
Moreover, a glance at the rear panel reveals that "Junior" offers something the two bigger boards don't: MIDI In and Out. You can recall Scenes from a DAW using MIDI Program Changes, control the main output volume and effects level, and even mute effects between songs—all thanks to the magic of MIDI control.
StudioLive 16.0.2 MIDI features
Being able to control the 16.0.2 from an iPad®, iPhone®, or iPod touch® is cool — unless your hands are busy playing your instrument. What if you want to change from lots of reverb to a little bit of delay? What if you just need more volume through your P.A.? What if you want to change the mix for a solo?
A glance at the StudioLive 16.0.2 rear panel reveals that "Junior" offers something the two bigger boards don't: MIDI In and Out.
Use a MIDI footpedal (or DAW) to control:
Main Output Volume
Effects A and B Output Volume
Effects A and B Setting
Effects A and B Assign to Mains
Effects Mute between Songs
Scene switching
Think of the possibilities for making your performances more exciting and varied — all without needing a separate soundperson. You can even automate these features with a DAW!

"WOW! How did you get that snare to sound so good?"
Don't tell them it was one of the 50 StudioLive Fat Channel channel presets.
StudioLive's Fat Channel lets you apply the equivalent of a six-foot rack of signal processors to every input. If you're an experienced sound person, you'll love all the options. But if you're new to pro audio, gating, compression, limiting, semi-parametric equalization, and so on, can seem pretty complicated—which is why we've built in 50 excellent preset starting points.
Before we released the StudioLive, we sent some out to professional sound mixers and engineers, let them tweak to their heart's content under actual live and studio conditions, and then stored the results in factory presets. You get the benefit of their years of experience at making drums, percussion, guitars, keyboards, horns, vocals, and spoken word sound their best.
And of course you can alter, rename, and generally customize each preset and save it in any of 50 empty storage locations. Here's a sample:
DRUMS
Kick, Funk, Jazz,
Fat Snare and Snare Crackalak
Toms Low and Hi Overhead
Rock
and 9 more

BASS
Electric 1, 2
Slap
Upright

GUITAR
Rock 1, 2
Funk
Metal
Acoustic
and 3 more

KEYBOARDS
Bright Piano
Warm Piano
Jazz Piano
and 3 more

HORNS
Trumpet
Trombone
Sax
Solo Sax

PERCUSSION

VOICE
3 male presets
2 female presets
2 spoken-word presets
Features
8 mono mic/line channel inputs, each with:
High-headroom Class A XMAX™ mic preamplifier
XLR mic and balanced ¼" line inputs
60 mm precision fader

4 stereo line channel inputs, with:
High-headroom Class A XMAX™ mic preamplifier (Ch. 9, 11, 13, and 15)
XLR mic inputs (Ch. 9, 11, 13, and 15)
Balanced ¼" line inputs (Ch. 9-16)
Unbalanced RCA line inputs (Ch. 13-16)
60 mm precision fader (4 stereo)
4 Auxiliary buses (pre/post-fader send)

2 Internal FX buses
2 stereo 32-bit digital effects processors with customizable reverb and delay presets
Fat Channel signal processing on all channels and buses, with:
3-band semi-parametric EQ (individual band on/off)
Full-featured compressor
Standard downward expander
Limiter
Phase reverse (12 mic preamplifiers only)
Pan with dedicated 15-LED display
Stereo link for input channels and aux buses
High-pass filter

One 31-band stereo graphic EQ (on main outputs only)
16-in/16-out FireWire recording interface (24-bit/44.1 kHz and 48 kHz)
Compatible with most audio software via ASIO, Windows Audio, Core Audio

Scene store and recall
Settings can be copied among channels and buses and saved as user presets.
Software bundle for Mac® and Windows® includes:
PreSonus Studio One® Artist digital audio workstation
PreSonus Capture™ live-recording software
PreSonus Universal Control with Virtual StudioLive™ bidirectional mixer-control software
Free downloadable software from the Apple App Store provides wireless remote control, including:

PreSonus StudioLive Remote for iPad®
PreSonus QMix™ for iPhone® and iPod touch®

Lockout mode protects your settings from meddlers and accidents
MIDI Control Mode provides control over:
Scene and FX Preset recall
Main Volume, FXA, and FXB output levels
FXA and FXB assign/unassign to Mains