Details
The original ProRes recorder
Ki Pro established a new paradigm in tapeless recording. Revolutionizing how footage tracks from production to editorial, Ki Pro captures Apple ProRes 422 files direct from the source, which can then be used in most editing systems without the need for additional import or transcoding steps. Just remove the Storage Module from the Ki Pro, connect direct to the editing computer and once the files are transferred they are immediately ready for use in the NLE software.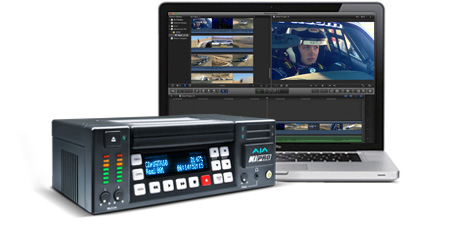 Unify formats – speed workflows
Offering AJA's high-quality up/down/cross conversion and a multitude of connections, integration with your other production gear is seamless. Ki Pro let's you effortlessly bridge formats and sources within your workflow, ingesting footage to a common format and outputting to numerous simultaneous monitor outputs.
Connected to a camera or used as an on set VTR, Ki Pro units unify source material to a single file format that can be used by most major editing systems without additional transcoding, streamlining the edit process and facilitating savings in time and resources.



RS-422 Control
Ki Pro's RS-422 control allows it to be easily integrated with editing systems, external controllers and even other tape decks, allowing it to fulfill the functions of a traditional VTR. Systems can perform assemble edits direct to the Ki Pro's Storage Module, often faster than rendering to ProRes files within an editing system.
Ki Pro's RS-422 connection can also be used to directly capture tape-based media into Ki Pro as ProRes footage ready for editing or archiving.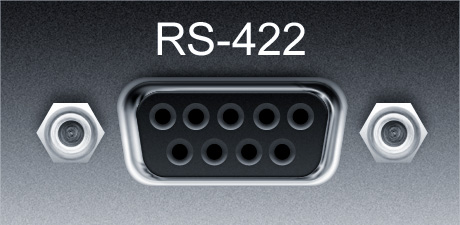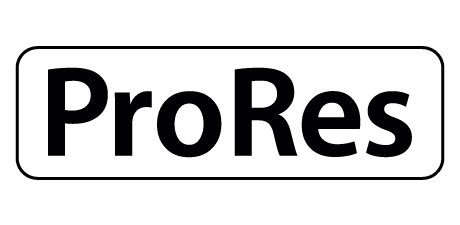 10-bit, full raster recording
Big on quality - but not on file size. Recording 10-bit, full raster files, Ki Pro gives you high quality images that easily stand up to post processing requirements - and client scrutiny.
Compared to 8-bit recording devices, 10-bit 4:2:2 recording provides greater dynamic range, giving a superior representation of the original scene and allowing for more flexibility in post production when adjusting color and balance.
By utilizing efficient ProRes codecs, file sizes are kept in check so you won't need to blow your production budget on extra storage.



Connectivity
Ki Pro's extensive connectivity ensures it can interface with virtually any gear you might have in your production workflow. The packed rear connections include SDI, HDMI, component analog, balanced and unbalanced audio connectors, LTC input/output, and even LANC.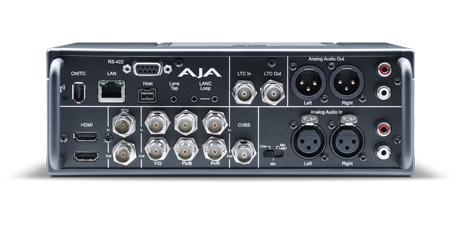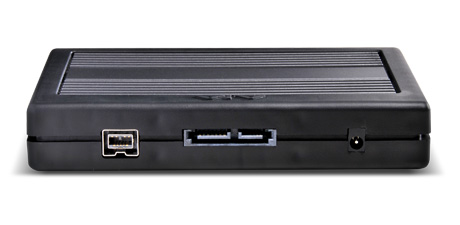 Reliable storage media
Ki Pro captures 10-bit footage direct to reliable AJA Storage Modules, available in spinning disk or SSD variants that connect directly to your editing system via a built-in FireWire 800 connection. Backed by a 1-year warranty, AJA Storage Modules are engineered with reinforced connections and thoroughly tested, ready for intensive use. Record times are longer than standard tapes as well, minimizing the number of media changes needed.
Remote configuration and operation
On set or in a machine room, Ki Pro is equipped for advanced remote control and configuration.
On the set, Ki Pro requires minimal direct user interaction. Record start/stop operation can be triggered automatically by detecting information in the SDI signal or by using a separate LANC control on properly equipped cameras.
In a networked environment, Ethernet connectivity of Ki Pro hardware allows control and configuration to be performed via standard web browser. Multiple Ki Pro units can all be controlled from a single interface for group operation.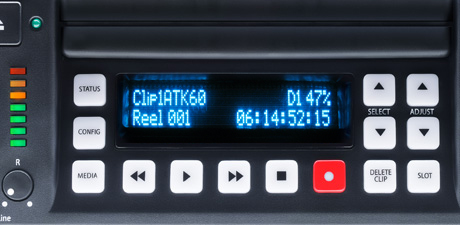 Simple controls and setup
Just like a traditional tape deck, each Ki Pro features straightforward dedicated Record, Play, Rewind and FastForward buttons - making the transition easy with minimal training time. The current status of the system and all configuration information is clearly displayed on the built-in screen.
The embedded OS uses a fast, flat menu structure that allows full configuration to be done directly on the device with no need to connect to a laptop to access operational parameters.



Ethernet file transfer
Because of its network connectivity, media can be copied to and from Ki Pro over the Ethernet connection. This allows for fast file transfers without the need to physically remove the media from the Ki Pro, which can be especially useful in larger facilities and cuts down dramatically on the number of people that have to enter the machine room, minimizing the risk of unintentional interference with equipment.
Additional Information
| | |
| --- | --- |
| Format | Apple ProRes 422 1080p, 1080i, 720p |
| Input / Output | Video Input Digital: SD and HD-SDI (1xBNC), SMPTE-259/292/296 HDMI Analog: SD/HD Component (3xBNCs): SMPTE/EBU N10, Betacam 525 line, Betacam 525J, RGB, YPbPr 12-bit A/D, 2x oversampling Video Output (all simultaneously active) Digital: SD and HD-SDI, SMPTE-259/292/296 (1xBNC) HDMI Analog: Composite (1xBNC): NTSC, NTSCJ, PAL 12-bit D/A, 8x oversampling SD/HD Component (3xBNCs): SD: SMPTE/EBU N10, Betacam 525 line, Betacam 525J, RGB 12-bit D/A, 8x oversampling HD: YPbPr, RGB 12-bit D/A, 2x oversampling Audio Input Digital: 24-bit SDI embedded audio, 8-channel, 48kHz HDMI embedded, 2-channel Analog: 24-bit A/D, 2-channel balanced (2 XLR), 48kHz Input level: Line, Mic, Mic + phantom 48Vdc 2-channel unbalanced (2 RCA) Audio Output Digital: 24-bit SDI embedded audio, 8-channel, 48kHz HDMI embedded, 8-channel Analog: 24-bit D/A, 2-channel balanced XLR, 48kHz 2-channel unbalanced (2 RCA) |
| Media | AJA Storage Module 250GB |
| Power Requirement | 110-220VAC |
| Power Consumption | 30W typical 3.3 Amperes maximum current |
| Dimensions | 18 x 7 x 10" (45.7 x 17.8 x 25.4cm) |
| Weight | 7.4 |